MOTIVATIONAL KEYNOTE AND YOUTH GUEST SPEAKER
BUSINESS • LEADERSHIP • TECHNOLOGY • PARENTING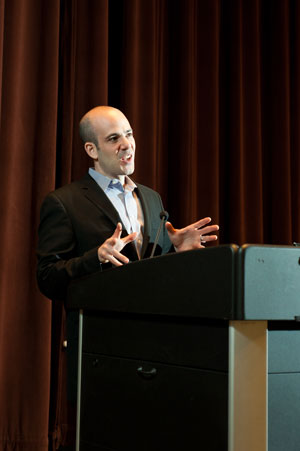 One of today's best motivational keynote guest speakers for youth and business, Scott specializes in crafting key note guest speaking presentations for schools, associations, organizations, meeting planners, trade events and businesses of all sizes.
A veteran keynote speaker and proven entrepreneur celebrated for his ability to excite and engage speaking audiences with inspirational speeches, presentations, workshops, interviews and custom training programs, we invite you to consider booking him for your next public event or corporate retreat today.
From meetings to conventions, business summits and industry retreats, find out why top executives and thought leaders the world over recommend Scott Steinberg to put today's biggest topics, trends and headlines in perspective.
Areas of Expertise Include:
Business
Technology
Media
Parenting
Youth
To book Scott as a guest keynote speaker for your next event, please contact: Dan Dwight, 888-507-2246
Sample Topics:
Embracing Change: Creating a Culture of Innovation – Give your business the knowledge it needs to succeed in tomorrow's ever-changing global economy via new approaches to leadership, technology and time management.
Leading by Example: Strategies that Excite and Motivate – Improve job performance, increase ROI, and enhance communications with coworkers and customers alike using the results-driven methods that today's industry leaders embrace.
Make Social Media Work for You – From blogs to social networks and beyond, the secret to making social media services like Facebook, Twitter and Google+ work for you – and, from a business standpoint, how to truly measure what they're worth.
Marketing 2.0: The Future of Online Advertising – Proven, cost-effective ways to instantly capture consumers' attention, increase brand awareness and boost the performance of any campaign overnight.
Failure: The Secret to Success – Why, contrary to common wisdom, it pays for today's top thought leaders and business executives to fail fast and often, and the invaluable lessons that they can only learn from their mistakes.